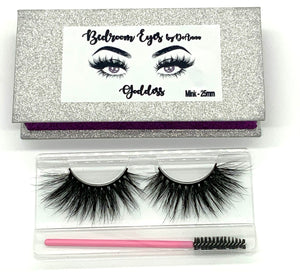 High Quality Glamorous 5D Mink Eyelashes. 
 25mm
Goddess is definitely the Cleo Patra look. Shorter on the inner eye and a longer outer eye with the fullness to give your eyes that sexy look

• 100% Cruelty Free                                 

• 100% High Quality Mink Eyelashes
• Black Cotton Band For Long Time Wear
• Hypoallergenic, Sterilized 
• Lightweight and Flexible
• Reusable & Stack-able 
♥25-30 wears with proper care.
 Each set comes with Lash Brush

Lash Tweezers and Glue also available (Sold Separately)